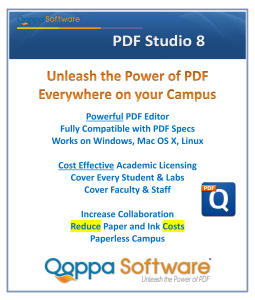 Qoppa Software is exhibiting at this year's EDUCAUSE® Southeast Regional Conference from May 29 to May 31 2013 in Atlanta (our hometown!).
Qoppa's display will offer live demonstrations of PDF Studio, our powerful PDF software, an affordable alternative to Adobe® Acrobat® for schools and universities.
PDF Studio, available for Windows, Mac OS X and Linux, puts state of the art PDF technology within reach of all schools, small and big, and allows efficient paperless collaboration for everybody on campus: students, faculty and staff.
Higher education IT professionals, teaching professionals, and decision makers are invited to come and learn more about our PDF software and discuss deployment scenarios with Gerald Holmann, president and founder of Qoppa Software.
Read more…
PDF Studio, a Cost-Effective PDF Software for the Entire Campus
PDF Studio Special Academic Discount
EDUCAUSE Southeast Regional Conference 2013
About EDUCAUSE and Information Technology for Higher Education
Follow