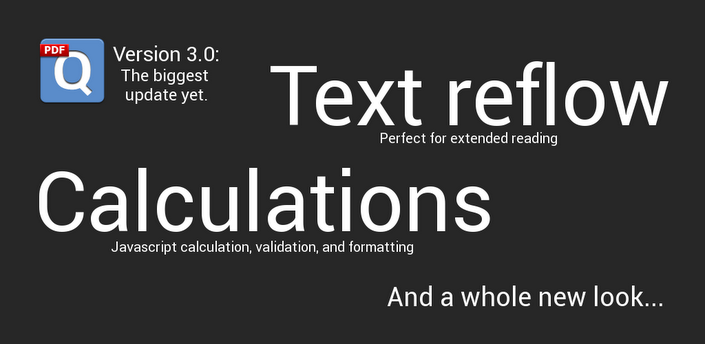 ATLANTA – November 1st, 2012 – Qoppa Software, a leading producer of PDF solutions, is proud to announce release 3.0 of its Android PDF apps, qPDF Notes – PDF Reader and Annotating App and qPDF Viewer – Free PDF Reader. This release includes major new features including a text reflow mode, support for Javascript in interactive forms, and a whole new look.
Text Reflow Mode: The text reflow feature allows for more effective reading of ebooks, magazines, and articles while on the go. Text reflow shows a text-only view of a PDF document and automatically reflows the content to fit the screen width as users zoom in and out. Font size can be increased or decreased according to reading preferences. This view provides an exceptional reading experience on smaller Android phones and tablets by eliminating the need for horizontal scrolling.
Javascript Support: The added support for Javascript in version 3.0 greatly improves user experience when filling interactive PDF forms by implementing:
form field calculations to automatically compute the value of given fields from other fields.
form field validation to prevent users from entering invalid data and ensuring that all required data is filled in.
form field formatting to facilitate the capture of special format fields such as dates, social security, phone numbers, etc…

A New Look: The user interface was reinvented to accommodate the many functions offered in the app and give users quick and easy access to core features. The Action bar was changed to add the following menus:
"File" menu to open, save, or send/share files.
 "View" menu to change to text reflow mode, go to the outline / bookmarks / comments pane, go to page, zoom, and lock the navigation overlay.
"Document" menu to add new pages, flatten annotations and fields, or go to the fast form fill view.
In addition, all colors and icons were redesigned for a streamlined, sleek new look consistent with the overall Android Holo style.
Add Images: Version 3.0 adds the ability to easily add images / pictures as annotations onto PDF documents or add them to interactive PDF form image fields. Images can come from the device, cloud services or directly from the camera, simplifying the daily routine of professionals such as home inspectors or insurance agents when creating inspection reports.
To celebrate qPDF Notes' new release, the app is offered at 50% discount through December. Users who are currently evaluating qPDF Notes Demo are encouraged to take advantage of this opportunity to upgrade to qPDF Notes Full Version.
Qoppa Software makes the PDF technology found in its apps available in an Android PDF SDK for Android developers to integrate into their own apps.
Qoppa's Android products are available for all Android phones and tablets 2.1 or higher including: Nexus 7, Samsung Galaxy S2 and S3, Asus Transformer Prime, Acer Iconia, Samsung Galaxy Tab, Samsung Galaxy Note and Galaxy Note 10.1, Motorola XOOM, Kindle Fire, Nook Color, Blackberry Playbook and devices with custom ROMs.
About Qoppa Software:
Qoppa Software specializes in the development of high-end libraries and applications to work with PDF documents. Qoppa Software offers a suite of highly portable products that cover every aspect of PDF processes and integrate seamlessly into document work flows, including end-user, server and PDF library products. Qoppa's products are carefully designed and developed on Qoppa's own robust PDF technology to provide the highest level of performance and reliability.
Get qPDF Notes – All-in-one Android PDF – from Google Play  Install
Get qPDF Viewer – Free Android PDF Reader – from Google Play Install
A whole new look for qPDF Notes 3.0 (see before and after pictures).
Full Change Log for qPDF Notes 3.0