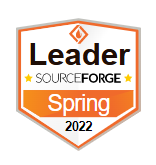 Qoppa Software is proud to be a winner of the Leader award from SourceForge, the world's largest software reviews and comparison website.
April 26, 2022, Qoppa Software, a software solutions company based in Atlanta, today announced that Qoppa's PDF editor, PDF Studio, has been awarded a Spring 2022 Leader Award by SourceForge, the world's largest software review and comparison website. This award recognizes exceptional companies and products with outstanding user reviews that puts them in the top fifth percentile of highly reviewed products on SourceForge. 
CEO Gerald Holmann of Qoppa Software stated his appreciation, "At Qoppa, we're excited to accept the SourceForge Spring 2022 Leader Award. We do our best to provide a best-in-class product, and we're happy to see our users rewarding us with good reviews. We're grateful to be valued by our customers and to be recognized by SourceForge." He also expressed his team's goal, "our small team's goal has always been to produce the best value PDF software on the market. Every year, we're publishing better and better versions of PDF Studio which can not only compete in features and performance with the most recognized applications, run on most platforms including Windows, mac and Linux but are also offered at an unbeatable price. We're the PDF experts and it shows!"
To win the Spring 2022 Leader award, each winner had to receive enough high-rated user reviews to place the winning product in the top 5% of favorably reviewed products on SourceForge, which demonstrates the utmost quality that Qoppa Software delivers to customers.
"We're happy to announce this year's remarkable Spring 2022 Leaders" said SourceForge President, Logan Abbott. "PDF Studio showed that it is beloved by its users, as evidenced by the large quantity of outstanding user reviews."
About Qoppa Software
Qoppa Software is located in Atlanta, GA and develops PDF solutions to help customers improve and automate document processes. Our products, which include server software, desktop applications and a developer SDK, are carefully designed to deliver the highest level of performance and reliability, and to integrate seamlessly into document workflows.
About SourceForge
SourceForge.net is the world's largest software comparison directory, serving nearly 30 million users every month and featuring user reviews, product comparisons, software guides, and more. SourceForge's mission is to help businesses find the best software to fit their needs and their budget. There are a variety of software tools available to businesses, and there are tools in almost every category and niche, each serving a slightly different purpose. SourceForge also powers the Slashdot.org/software/ business software and services directory.

Follow





Share