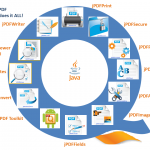 Atlanta – September 12 2012 – Qoppa Software, a leading provider of PDF solutions, releases newly improved versions of all of their Java PDF library products.
Qoppa's Java PDF class libraries are enhanced with a new powerful algorithm for text extraction.
"The order and organization of text objects in a PDF document do not necessarily correspond to the logical reading order.  We have developed a new text extraction algorithm which detects the natural flow of even structured PDF documents such as research or newspaper articles. We're very happy with the results when compared with other PDF tools." says Gerald Holmann, Qoppa President.
The new release also adds enhanced memory management so the PDF libraries can handle rendering and printing of very large CCITT fax images (200Mb and above).
In this fall release, Qoppa's Java PDF visual components benefit from a new tile-based rendering approach which splits each page of a PDF document into multiple tiles that can be rendered and cached independently. This new strategy enables implementing out of thread rendering and improving image caching and memory usage, which makes it easier to work with intensive PDF documents in 3 areas:
Faster rendering
Smoother drawing of annotations
Better GUI responsiveness
Also new in this release is Qoppa's pan and zoom tool which will allow users to zoom in and out of high-resolution pages and move around a page ("pan") while also displaying a larger view of a page.  This new tool should greatly benefit professionals working in the media, print, and graphics industries.
Thanks to the revision of Qoppa's text extraction algorithm, text selection and highlight is also greatly improved in the visual components.  Now cursor based, it follows the logical reading order of structured documents and allows marking up text across columns.
"The new release brings our Java PDF rendering components to a whole new level, delivering one of the best user experiences available on the market when it comes to viewing, marking up and scrolling through PDF documents." – Gerald Holmann, Qoppa President
For additional details, change logs are published on Qoppa's Knowledge Base:
Full Change Log for Java PDF Library 2012-09 Release
Full Change Log for Java PDF Component 2012-09 Release
Follow